Bioptimizers P3-OM Probiotics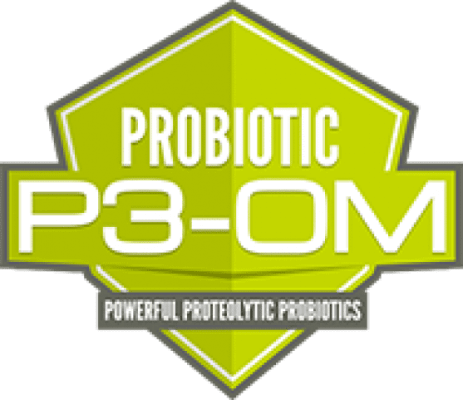 PATENTED PROBIOTIC: Bioptimizers P3-OM Probiotics uses a patented process to dramatically enhance L. Plantarum—one of the most studied probiotics ever—resulting in a new super strain that can digest the protein-coating of pathogens like yeast, mold, viruses and even parasites.
BOOSTS AMINO ACID ABSORPTION: The proteolytic nature of P3-OM means it helps convert protein into usable amino acids that feed your brain, gut and muscles.
FREEZE-DRIED FOR MAX POTENCY: P3-OM uses this process to keeps the beneficial bacteria "dormant" until they make contact with water again.
NO CHANGE IN DIET REQUIRED: See How A Friendly, Ferocious Probiotic Builds Bigger, Stronger Muscles, Burn Fat and Fix Digestion.
Without A Single Change To Your Diet Or Workout.
NO REFRIGERATION REQUIRED: P3-OM maintains its maximum shelf-life and potency at room temperature, which means you always get the CFU count listed on the bottle
UNPARALLELED DOUBLING POWER: P3OM doubles every 20 minutes as long as it has nutrients to feed on.
Here are just a few of the benefits of Bioptimizers P3-OM Probiotics that it can have:-
Aid with digestion
Increase absorption in your small intestines
Significantly reduce IBS symptoms
Lower intestinal permeability
Fight various intestinal pathogens
Decrease flatulence
Strengthen your immune system
Decrease frequency of cold/flu
Decrease length/severity of cold/flu
Accelerate burn healing
Fight fungal infections
Reduce pancreatic sepsis (infection)
Reduce postoperative infection
Reduce pneumonia risk
GET YOUR NOW
Why should you take probiotics?
A probiotic (pl. probiotics) is a supplement with living bacteria that contribute to your health. Many probiotics are naturally found in fermented foods such as pickled cabbage and yogurt. Probiotics are often resistant to stomach acid and come alive in the intestines, where they do most of their work. Some bacteria colonize the intestines and become part of your own intestinal flora. Other probiotics are only short-term visitors, but still, perform work during their temporary presence.
BiOptimizers P3-OM: powerful protein-digesting probiotics
BiOptimizers provide the probiotic Lactobacillus Plantarum bacteria in their P3-OM supplement. P3-OM stands for Powerful Proteolytic Probiotics. This patented line from L. Plantarum has the ability to digest proteins.
The L. Plantarum in P3-OM has a long shelf life because they are freeze-dried. This keeps the bacteria inactive until they get water again. Each capsule contains 2.5 billion live bacteria (Colony Forming Units).
All the benefits of BiOptimizers P3-OM
L. Plantarum: probiotic bacteria that occur naturally in fermented food
2.5 billion CFU per capsule.
Passing probiotic: does not remain in the intestines
An adapted line from L. Plantarum with proteolytic properties
Long shelf life due to freeze-dried, inactive bacteria